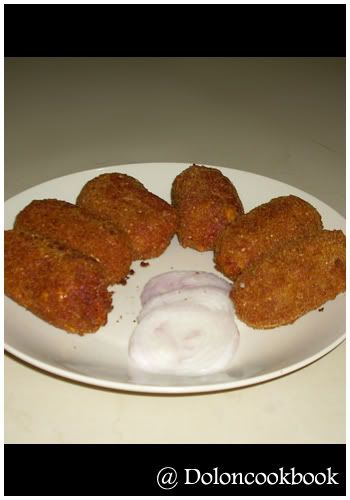 This is a very hectic week for me ... Lots of work in the office & at home also .But today is last day of the week , now 2 days off for weekend . That means again my normal weekend routine . but last week when I got continious 3days off I made some delicious recipes . I already post one in my earlier poat & I promised to all of you that i wil post those recipes one by one . So today I am posting one snack recipe , called Vegetable Chop .
So here is the recipe .


Ingredients:-


1. 1 medium potato .
2. 2 medium size carrot .
3. 2-3 medium size beetroot .
4. 1 tsp ginger paste
5. 3 tsp peanuts .
6. 3-4 tsp bhaja masala .
7. 1/2 tsp sugar .
8. Salt .
9. 4-5 tbsp besan .
10. 1/2 cup bread crumbs .
11. 1 cup white oil (for deep frying) .

Ingredients for bhaja masala :-

1. 2 tbsp cumin seeds .
2. 6 dry red chillies .


Method :-

1. Roast cumin seeds & dry red chillies on low heat till jeera turns brown and chillies dark red. Do not char. Remove from heat and grind in a grinder. You can preserved it for long periods and used for different preparations also .
2. Cut potato , carrot & beetroot into 2-3" size big chunks. Pressure cook on high heat for 2 steams. Drain the water & mash the vegetables coarsely & mix 2-3 tsp bread crumbs .
3. Heat 2 tbsp oil in kadai. Fry the peanuts & remove from the heat .
4. Now add ginger, fry for 2 min . Add the roughly mashed vegetables, salt and sugar. Cook for 8-10 minutes on medium high heat.
5. Add bhaja masala and mix . Remove the vegetables from heat and let it cool.
6. Make a besan mix by adding 1/4th cup water. The mix should not be too thick or too watery . Make chop-size dumplings of the vegetable mixture using your hands & dip in besan mix to form a thin layer, coat with bread crumbs and keep aside.
7. Pour the oit in a deep bottom pan & fry them till golden brown. Remove from heat and keep on paper towel to drain excess oil before serving.
8. Now serve them with some tomato sauce .