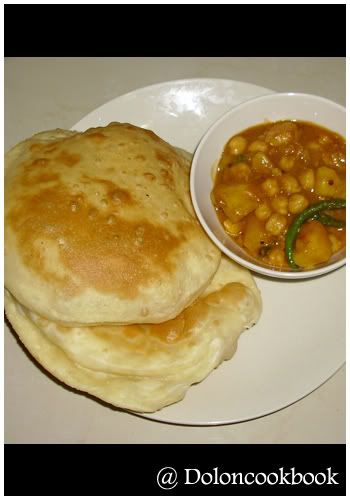 This weekend the weather was nice .. Not that much hot . Normally june to august is the hottest seasons over here .After that weather starts changing & weather becomes nice & cold . But yesterday it was little cold & hazzy weather . I normally make something special for breakfast every weekend insted of cake / bread , milk- cornflakes . & this time when my dear hubby wanted to have chole - bhature I thought why not make as per his request .
So here is the recipe :-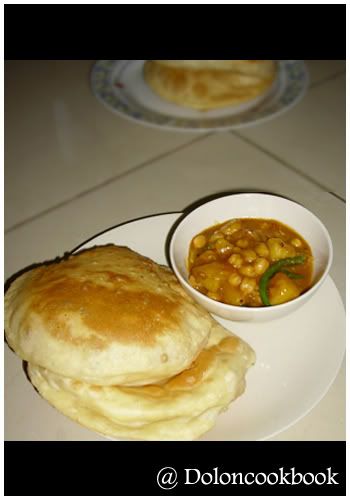 Ingredients :-

1. 5 cups white refined flour .
2. 1 cup yogurt .
3. 1 tsp salt .
4. 2 tsps ghee for kneading & extra for frying bhatures .
5. 1 tsps sugar .
6. 1/2 tsp yeast .
7. Water.

Method :-

1. Mix the yeast with half a cup of luke warm water and keep aside for ten minutes.
2. Now sieve the flour and salt together .
3. Mix the ghee and the sugar with the flour.
4. Add the yogurt and dissolved yeast .
5. Add little more luke warm if necessary.
6. Knead well until the dough becomes soft and pliable.
7. Cover it with a wet cloth and keep aside for two hours.
8. Heat the ghee in a kadai .
9. Make small balls and roll them , spread a little with your palms to make it bit elongated ( tear shaped) and fry in hot ghee until golden brown.
10.Served these bhature with some spicy chole .


They came out very nice & tasty . I am sending this recipe to dear Divya , who is hosting the event called "Show me your Breakfast!" .