On Friday night at 12 o'clock a mobile ringing . It was a call to wish happy birthday to a girl . Yes it was my friend Hina who called to wish me " Happy Birthday " . Soon she & her husband came with a big surprise for me - A birthday cake at 12.30Am at night & also got call from India ( from my paraents & In laws ) .
I feel like I born today only . So I cut the cake & clebrated by birthday at 12.30 am at night . On saturday I gave a small treat to them .
& yes I got a nice surprise gift from my husband too , a diamond ring .....
Thanks to all my well wishers & friends for making my birthday so special .
Here are some pictures :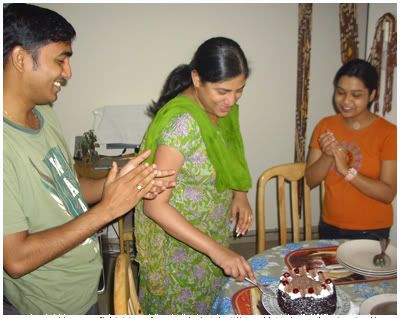 So now its time to say bye . Will come with some more pictures & recipes .
Have a great start of the new week to you all .